Browsing all articles tagged with mobile
Web Development — Syracuse
On April 21, 2015, Mobilegeddon was released and now Google has new rules in place to make sure that your sites are mobile friendly.  While the impact of the new algorithm may not have changed much for most sites, the message was clear: Google cares that your website is mobile friendly.  And, the importance of that will only continue to increase.
Not sure if your website is mobile friendly?  There's no better place to check than to ask the experts themselves: Google.  Use this convenient link to see if Google thinks your website is optimized for mobile.
ATS Mobile has developed several sites for businesses recently in the Syracuse, New York market.  All are, of course, mobile friendly.
One site, developed for Brogan Brands, shows the outstanding outdoor advertising that the agency does.  Another site is for the Notch 8 Cafe, a new restaurant in suburban Syracuse.
If you haven't mobile-optimized your site, there's no time like the present to make sure that you do.  So, whether your business is in Syracuse, or anywhere else for that matter, optimizing your site for mobile just may be the most important thing that you can do for your business right now.
Time spent with digital continues to increase among American adults through 2015 while traditional mediums such as TV, radio, and especially print are on the decline.  Mobile has been the big winner with American adults spending 2 hours and 3 minutes more with non-voice mobile services from 2011 through 2015.
If your marketing plan for 2015 doesn't include mobile and digital, your marketing plan simply isn't done.
Want to learn more about the mobile revolution that is occurring today?  Check out this article about mobile.
ATS has been in business for nearly 26 years.
Imagine how much technology has changed during that time.  When we started our business in 1989, only about 3.5 million Americans had a mobile phone.  And, most of them were those big bulky bag phones!
But, while technology has changed tremendously over those years, our clients have not changed much.  In 1989, we were supplying toll free 800 numbers to our advertisers and advertising agencies.  In fact, 26 years later, we continue to provide IVR solutions for advertisers, agencies and other services such as class action lawsuits.
But, what we do quite often today is act as back-end consultants for traditional advertising agencies.  ATS works with agencies in many ways.  In some cases, we are merely the hired hands to provide the back-end technology.  In other cases, we act as partners of the traditional advertising agency to bring them the mobile expertise that they need.
Do you work at an advertising agency and need help understanding mobile?  We live, sleep, and dream of mobile every day.
So your agency doesn't have to.
Your HR Homerun
ATS's Barb Breeser recently did a presentation at a talent acquisition conference for human resources professionals.  Barb spoke with the audience about how HR departments can employ a mobile first marketing strategy to engage and acquire professional talent.
Here's more of Barb's presentation.
When Will Mobile Get Its Fair Share?
In the presentations that our company makes, we often site the fact that mobile gets 20% of the time spent with media, but only 4% of the advertising budgets. It's an effective and powerful sales statistic that makes the prospect consider how it may be missing out on this valuable market.
How To Advertise on Mobile
There are several ways that and advertiser can take advantage of the medium of mobile advertising.
Direct Mobile Websites – buying an advertisement directly from YELP on its mobile website.
In App Advertising – buying an advertisement on the Pandora mobile app directly from Pandora.
Mobile Ad Networks – purchasing an advertisement on a variety of mobile apps and mobile websites from a company that has relationships with many such sites.
Social Media – buying mobile advertising on sites such as Facebook or Twitter with the tools that it provides.
Direct Mobile Websites
You could purchase directly from mobile websites themselves. A common place where a small business might purchase directly on a mobile website is YELP. YELP has a very aggressive sales team; it seems like every business I call has had a visit from the YELP rep.
Many advertisers will come to us and ask to purchase mobile advertising on sites such as ESPN or CNN. Most of these sites don't really want to deal directly with a lot of customers so they usually have a minimum investment of at least $10,000 per month which makes such advertising only possible for larger advertisers.
In App Advertising
One could also purchase advertising directly from sites such as Pandora. One of the long-time raps against radio has been that it is "background noise" and listeners don't really pay close attention to the advertisements. The same could be said about Pandora, except that Pandora only serves graphic advertisements when the consumer is engaging with it. In other words, ads don't just randomly pop-up on the site, but if you are engaging with Pandora via a thumbs up or thumbs down feedback, an advertisement may appear.
In addition to the graphic advertisements, you can also purchase voice advertising on the Pandora app.
Of course, if you hate the advertisements, you can always purchase the advertising free version on Pandora for $4.99 per month.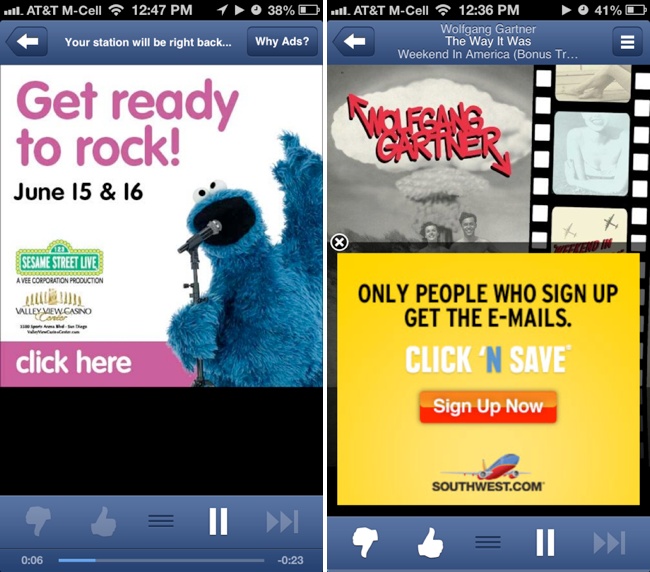 Mobile Ad Networks
There are a lot of mobile ad networks out there competing for market share against the giants of Google and Facebook. In fact, this guy put together a list of over 415 mobile ad networks! Of course, no customer or agency could ever be familiar with all of these so you end up using a few, mostly based on the availability of inventory, price, and service.
Here's some of the top 25 mobile ad networks. You may recognize some of the names. Millennial Media, Jumptap, and Tapjoy are networks that a lot of advertisers and agencies use. Some mobile ad networks have areas of specialization like InMobi which specifically targets gamers.
Quite frankly, the mobile ad networks don't get results that are nearly as effective as Facebook, because they don't offer the pinpoint advertising that is needed. They do, however, offer a better CPM (cost per thousand) and provide a lot of branding at a more inexpensive rate.
The negative is that your advertising will run on a lot of different types of sites. We once got a complaint that one of our client's advertisements ran on a site that was exclusively about butts so it is now a running joke in the office that we are "buying butts."
Mobile Social Media Advertising
If you can only advertise in one place, I'd recommend that it be social media, especially Facebook. Facebook knows an awful lot about you. Think of everything that you post on Facebook; it obviously knows that. Then, think of all of the sites that you visit that have the Facebook LIKE button on them; Facebook knows you are there whether you've clicked on the LIKE button or not. Most of us are always logged in to our Facebook page, because our computers remember our passwords.
With Facebook, there are two primary types of advertising available. Open your Facebook page on your desktop and take a look at your News Feed. There will be advertisements there. Facebook limits that amount of News Feed ads that it serves to you to about six per day so we don't get overwhelmed with the advertising. Moreover, only 20% of the advertisement can be sales oriented. In other words, Facebook will reject the ad if you have a big SALE over it. That's why the news feed ads don't really jump off the page at you screaming advertisement. At times, you don't even know it's a paid ad unless you see the "Sponsored" on it.
Take a look at your Facebook page on your mobile phone. Now, you see where the sponsored news feed advertising really shines. That's because the sponsored advertisement takes up your entire screen of your smartphone! You can't miss that advertising!
Now, look to the right on your desktop Facebook page and you'll see a narrower column that actually says "Sponsored" on it. These ads are cheaper than news feed ads, but they are also clearly less noticeable. And, it is considerably less effective in my opinion.
Facebook is, of course, not the only effective social media mobile advertising medium. Linked In is a great way to target professionals via social media advertising. Some advertisers have had success with Twitter and Pinterest advertising. A lot of advertisers are very excited to have Instagram advertising roll out to the masses; today, only Fortune 500 companies are involved in the beta test.
Tips for Better Mobile SEO
Why Search Position is So Important for Mobile and How to Get that Top Position
If you're marketing plan doesn't include mobile, then your marketing plan isn't finished.
The same can be said of Search Engine Optimization (SEO). While much of the same elements that are critical in search engine optimization for desktop searches are the same as for mobile, there are some definite differences when you are trying to optimize a website for mobile.
First, it's important to see the difference between click through rates by position when it comes to mobile vs. desktop searches.
You can see from the comparison above how gaining top positioning with a mobile search is even more important than it is with desktop search.
Listed below are some of the most critical things that I recommend when it comes to optimizing your mobile site.
Keyword searches should usually be shorter keywords as smartphone users are less likely to enter long tail keywords. Try http://keywordtool.io or Google Adwords Keyword Planner to find short keywords and keywords that are similar to your primary keywords.
When choosing long tail keywords for expensive products on a mobile site, think of what the initial search will be for. Often, an initial search for a luxury or expensive product begins on mobile and the actual purchase is deferred to desktop.
Geo-target your site to mobile. Think about how people search for local businesses. Out of town people, for instance, might search for "family restaurant near Disney World." Or, they may rely on their GPS and simply search for "gym near the Hilton." Others yet may rely on voice search through Siri. Consider adding such keywords to your prominent responsive design site pages that target mobile search.
A good user experience is critical. Google will rank your site based on how many bounces (those that leave the site immediately) it gets and how often the consumer returns to the site.
Use the "thumb test." If you can't navigate your site with your thumb, then it's likely not a good user experience and you won't get the repeat use that Google wants to see. Your mobile site needs to be easy to navigate.
Don't ever use pop-ups, Flash (iPhones can't show it).
Speed load time is especially important with mobile since in many cases the consumer is searching where he/she does not have access to wi-fi. We have no patience when it comes to the web: 74% will leave a site if it doesn't load within five seconds. Insert your website on Google Page Speed Insights to see how your site ranks speed-wise versus others.
Include video wherever you can, but put video on a page unto itself so it loads quickly.
One of the advantages to using adaptive design instead of responsive design is that you can design a mobile version of your site for each keyword as well as each device. In other words, an e-commerce site could have the product searched for at the top of the responsive design page.
You see the importance of a "less is more" approach to mobile web design. There are many reasons to only include the most important elements in your site.
Be sure to register your business with sites that are primarily made for local mobile search such as YELP and Trip Advisor.
Make sure you have your business listed at Google My Business In the Dushinski book, this was referred to previously as Google Places.
Put your phone number on every page and make it click-to-call so if the consumer simply touches it, they'll dial your business. Think pizza takeout.
With more than half of searches expected to be mobile this year, you can see just how important mobile search engine rankings are for your business. These tips will help you climb the mobile SEO ladder.
The Foundation for an Effective Mobile Strategy
According to eMarketer, 79.1% of Americans accessed the web from a mobile phone in 2014.
Moreover, more than a third of all accesses to the internet in the USA come from a mobile phone. That number rises if the target group is Black or Hispanic. And, in vertical markets like restaurants, the number is understandably significantly higher. In countries such as India, where broadband is not popular, mobile access to the internet is the predominant form of web access.
Why You Need a Mobile Optimized Website
You've heard of Google. It's kind of becoming a big deal. So, when Google speaks, most business owners listen. According to Google, 61% of consumers accessing a site that is not mobile friendly will simply leave for a competitor's site.
Despite all of the evidence, however, a surprisingly low number of small businesses have a website that is optimized for mobile. In fact, only 6% of small business websites are mobile optimized, according to this study. I happen to think that's kind of a low estimate, but nevertheless, you get the point: there's a lot of websites that are turning away business due to not being mobile optimized!
Take the Thumb Test
Google has put together a great presentation on what makes for a great user experience on mobile. You should learn these and know them well when designing your mobile website.
But, I like to simplify things even more. I call it the "thumb test." Open up a website on your mobile phone and navigate through it using only your thumb. Now, imagine that you are large man with really big thumbs. Were you able to easily get to where you needed to go? How many "fat finger" clicks did you make?
How to Optimize Your Website for Mobile
Until about 2012, most businesses created a mobile version of its website. This was a smaller, easy to navigate, version of the website. It often used a different domain like http://m.website.com.   When a consumer came to your domain from a mobile device, the visitor was simply directed to the different mobile site.
Then, things began to change for the lowly mobile only website. Google best practices announced that you really should be using the same domain for desktop and mobile users and the SEO community began endorsing responsive design as the best way to obtain high search engine rankings. Hence, Google's announcement caused the near death of the mobile website.
What Technology Should I Use for My Mobile Website?
There are really four potential solutions to how you should design your new mobile website:
Unique Mobile Site – using the m.website or simply a unique site solely for mobile users
Responsive Design – fluidly changes to any screen or device size
Adaptive Design – changes to fit a predetermined set of screen and device sizes
Hybrid Approach — uses some aspects of both responsive and adaptive design
Regardless of which approach is best for your particular needs, the important thing is that you provide an improved mobile user experience and gain the search engine rankings, and sales, that your business deserves.
This year, I have been given the distinct honor being chosen as an Adjunct Professor at the University of Denver. I am teaching a graduate level course in the Communication department in Mobile Marketing.  Over the next few days, I will be presenting some of my articles that have been written for teaching in this class.  Here is the first of those articles.
Overview
In the 21st century, a phenomenon occurred in the United States and the world. A mobile phone began appearing in nearly every pocket and every purse of every person old enough to own one.
American Express coined the phrase "Don't Leave Home Without It" long before the mobile phone, but that phrase probably better typifies the mobile phone than it ever did the credit card. Leave your mobile at home and you're likely looking for the next place you can safely do a U-turn to go back to pick it up. If you've ever lost it, it's probably worse than losing your wallet or purse. It's our lifeline. It's our gateway to the world.
Your Digital DNA
Never before in the history of technology has one device become the centerpiece of our lives. The cell phone you own today is your digital DNA. If you grew up in Denver, but have since moved to Austin, you've probably continued to maintain that 303 area code number despite the fact that you live in the 512 area code now. You will likely die with the same mobile phone number that you have today regardless of where you move.
Your mobile phone is so very personal that even spouses don't share it. And, most people would even consider it an invasion of privacy if your spouse looked at the text messages on your mobile. When your phone rings, it plays your favorite ringtone that you selected. Only you control what apps you put on your phone. And, only you know the passwords to open them. Your mobile phone is YOU! Nothing you own is more personal.
Your Message on the Move
In 2007, my company hired an advertising agency that came up with a catchy slogan for us to describe our mobile marketing services: Your Message on the Move
At the time, that slogan did a great job of portraying the potential that mobile marketing brought to the advertiser. Now, you just didn't have to reach the consumer on their landline when they were at home, when they were watching television or reading the newspaper (remember them?), or on their desktop computer when they were in the office. Now, you could reach the consumer when they were out and about…and nearby to your store. You could reach the consumer on their terms and you could reach them 24/7.
But, something changed along the way since 2007. Now, mobile no longer just characterizes reaching people that are on the move, because mobile has become the norm. Today, mobile is consumed everywhere, even on the couch at home—something that was not commonplace in 2007.
Cutting the Cord
That's why more and more Americans are cutting the cord. More than 41% of Americans now live in households that are cell phone only with no landline present. With minorities and the poor mobile is even more pervasive–over 53% of Hispanics, for example, are living in homes that are cell phone only.
The History of the Mobile Phone
The first mobile phone call was placed in St. Louis on June 17, 1946. That call was made from a car phone.
Prior to 1973, mobile technology was limited to phones installed in cars and trucks. Motorola and Bell Labs raced to be the first to produce a handheld mobile phone. That race ended on April 3, 1973 when Martin Cooper, of Motorola, made the first mobile telephone call from a handheld mobile device. Commercial sales of the prototype system, however, were still a long way off and did not become available until 1983.
Mobile as a Medium
Today, the amount of mobile subscriptions in the USA exceeds that of the total population. That is, there are about 1.1 mobile subscriptions for every adult and child in the country! See the breakdown of carrier market share here.
Thus, mobile offers the perfect storm for marketers to reach a vast, still comparatively untapped, marketplace.
In this course, you will learn about mobile marketing. Mobile marketing refers to nearly everything done on a mobile device from the most basic of services (text message marketing) to the most complex (apps development) and everything in between.
The mobile train has left the building, but there is still time to get aboard. In fact, the mobile train has just started making its long journey. No doubt there are plenty of stops along the way with seats open to savvy marketers that are willing to jump on board.
This is one train you don't want to miss!
Recent Posts
Recent Comments
Archives
Categories
Meta