Browsing all articles tagged with mobile
Domino's has long been a leader when it comes to companies that do mobile right.  Its new television commercial which will debut next week shows you just how pervasive mobile has become. And, how easy it is to order pizza from your mobile device.
When I think about brands that have really done an amazing job with mobile, I think of Starbucks first and Domino's Pizza second.
No matter how good your mobile marketing is, if the product is no good, you aren't going to get repeat customers. In 2010, Domino's fixed that with an improved pizza and a TV campaign that actually admitted that their pizza needed improvement.
And, they seem to have been rolling in the dough ever since with a mobile marketing campaign that seems ideally targeted to millennials. Today, mobile-savvy consumers can place pizza orders via an app, social media, SMS, a virtual voice assistant, and an online site. All of this ensures maximum convenience and reach and contributes to the brand's cool factor as well.
One of the most convenient things that Domino's offers is its Pizza Profile which allows users to save their favorite pizza toppings along with their payment information for a speedy ordering process, because when you want pizza, you want it NOW. You can even order a pizza from your Twitter account by simply typing in a pizza emoji! The app also enables pizza buyers to accumulate loyalty points which keeps them coming back.
For Domino's, having a great mobile pizza ordering process is not only an advantage, but a must have, because Domino's stores are small and most don't allow for any sit down dining so they need to be all about mobile.
I attended the MMA Global event in New York in September and the speaker there was Dennis Maloney, VP and chief digital officer for Domino's.  Dennis said that more than half of Domino's orders come from digital and half of them come from mobile. That clearly makes Domino's an ecommerce company today.
The lesson to be learned is that brand engagement is now happening over a variety of devices. At the office, it may be the desktop, at home it is likely the tablet, and on the drive home, it may be the mobile phone. In addition, consumers prefer to interact in various ways. Not everybody is on Twitter and interested in sending a pizza emoji so Domino's has effectively offered a multitude of ways to order their product. Let's face it, people don't really like to use the phone to talk if they can avoid it.
Sell More Pizza with Mobile Marketing
Smart Pizza Marketing has published its podcast interview with Bob Bentz and Barb Breeser of ATS Mobile.  If you want to learn more about how you can sell more pizza, click here to listen to Bob and Barb discussing mobile marketing with Bruce Irving.
Listen as Bob and Barb discuss various aspects of mobile marketing for pizza restaurants, including:
why text message marketing works better than email.
different aspects of mobile marketing.
mobile ordering for pizza restaurants.
the importance of a mobile-optimized website.
how to do dark posts for restaurants on Facebook.
social media marketing for pizza restaurants.
specific examples of successful pizza restaurant promotions such as promoting holding fantasy football drafts at the store.
how one pizza restaurant got an 11% return on its SMS campaign for Super Bowl Sunday.
ATS Mobile's Restaurants To Go services offer a complete mobile marketing tool kit for pizza restaurants.
When comparing time spent with media versus advertising spend, mobile continues to get the short end of the stick.  American businesses continue to spend money on print advertising, I guess just out of habit.
View time spent with mobile trends since 2009 here.
See more detailed statistics on time spent with various media here.
Web Development — Syracuse
On April 21, 2015, Mobilegeddon was released and now Google has new rules in place to make sure that your sites are mobile friendly.  While the impact of the new algorithm may not have changed much for most sites, the message was clear: Google cares that your website is mobile friendly.  And, the importance of that will only continue to increase.
Not sure if your website is mobile friendly?  There's no better place to check than to ask the experts themselves: Google.  Use this convenient link to see if Google thinks your website is optimized for mobile.
ATS Mobile has developed several sites for businesses recently in the Syracuse, New York market.  All are, of course, mobile friendly.
One site, developed for Brogan Brands, shows the outstanding outdoor advertising that the agency does.  Another site is for the Notch 8 Cafe, a new restaurant in suburban Syracuse.
If you haven't mobile-optimized your site, there's no time like the present to make sure that you do.  So, whether your business is in Syracuse, or anywhere else for that matter, optimizing your site for mobile just may be the most important thing that you can do for your business right now.
Time spent with digital continues to increase among American adults through 2015 while traditional mediums such as TV, radio, and especially print are on the decline.  Mobile has been the big winner with American adults spending 2 hours and 3 minutes more with non-voice mobile services from 2011 through 2015.
If your marketing plan for 2015 doesn't include mobile and digital, your marketing plan simply isn't done.
Want to learn more about the mobile revolution that is occurring today?  Check out this article about mobile.
ATS has been in business for nearly 26 years.
Imagine how much technology has changed during that time.  When we started our business in 1989, only about 3.5 million Americans had a mobile phone.  And, most of them were those big bulky bag phones!
But, while technology has changed tremendously over those years, our clients have not changed much.  In 1989, we were supplying toll free 800 numbers to our advertisers and advertising agencies.  In fact, 26 years later, we continue to provide IVR solutions for advertisers, agencies and other services such as class action lawsuits.
But, what we do quite often today is act as back-end consultants for traditional advertising agencies.  ATS works with agencies in many ways.  In some cases, we are merely the hired hands to provide the back-end technology.  In other cases, we act as partners of the traditional advertising agency to bring them the mobile expertise that they need.
Do you work at an advertising agency and need help understanding mobile?  We live, sleep, and dream of mobile every day.
So your agency doesn't have to.
Your HR Homerun
ATS's Barb Breeser recently did a presentation at a talent acquisition conference for human resources professionals.  Barb spoke with the audience about how HR departments can employ a mobile first marketing strategy to engage and acquire professional talent.
Here's more of Barb's presentation.
When Will Mobile Get Its Fair Share?
In the presentations that our company makes, we often site the fact that mobile gets 20% of the time spent with media, but only 4% of the advertising budgets. It's an effective and powerful sales statistic that makes the prospect consider how it may be missing out on this valuable market.
How To Advertise on Mobile
There are several ways that and advertiser can take advantage of the medium of mobile advertising.
Direct Mobile Websites – buying an advertisement directly from YELP on its mobile website.
In App Advertising – buying an advertisement on the Pandora mobile app directly from Pandora.
Mobile Ad Networks – purchasing an advertisement on a variety of mobile apps and mobile websites from a company that has relationships with many such sites.
Social Media – buying mobile advertising on sites such as Facebook or Twitter with the tools that it provides.
Direct Mobile Websites
You could purchase directly from mobile websites themselves. A common place where a small business might purchase directly on a mobile website is YELP. YELP has a very aggressive sales team; it seems like every business I call has had a visit from the YELP rep.
Many advertisers will come to us and ask to purchase mobile advertising on sites such as ESPN or CNN. Most of these sites don't really want to deal directly with a lot of customers so they usually have a minimum investment of at least $10,000 per month which makes such advertising only possible for larger advertisers.
In App Advertising
One could also purchase advertising directly from sites such as Pandora. One of the long-time raps against radio has been that it is "background noise" and listeners don't really pay close attention to the advertisements. The same could be said about Pandora, except that Pandora only serves graphic advertisements when the consumer is engaging with it. In other words, ads don't just randomly pop-up on the site, but if you are engaging with Pandora via a thumbs up or thumbs down feedback, an advertisement may appear.
In addition to the graphic advertisements, you can also purchase voice advertising on the Pandora app.
Of course, if you hate the advertisements, you can always purchase the advertising free version on Pandora for $4.99 per month.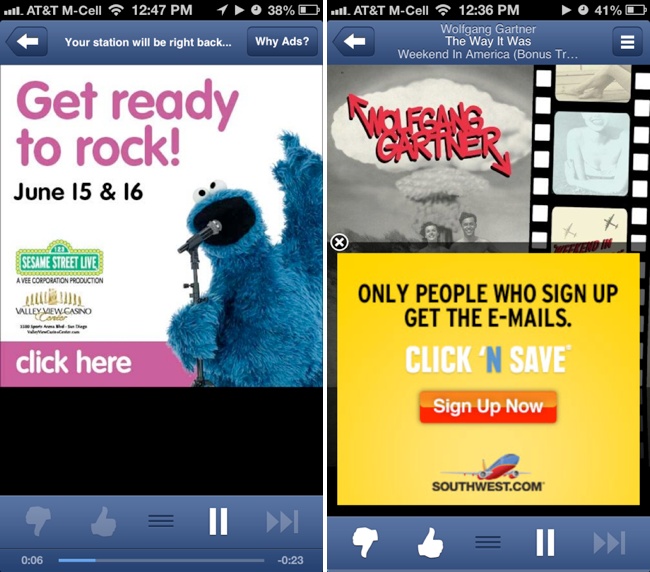 Mobile Ad Networks
There are a lot of mobile ad networks out there competing for market share against the giants of Google and Facebook. In fact, this guy put together a list of over 415 mobile ad networks! Of course, no customer or agency could ever be familiar with all of these so you end up using a few, mostly based on the availability of inventory, price, and service.
Here's some of the top 25 mobile ad networks. You may recognize some of the names. Millennial Media, Jumptap, and Tapjoy are networks that a lot of advertisers and agencies use. Some mobile ad networks have areas of specialization like InMobi which specifically targets gamers.
Quite frankly, the mobile ad networks don't get results that are nearly as effective as Facebook, because they don't offer the pinpoint advertising that is needed. They do, however, offer a better CPM (cost per thousand) and provide a lot of branding at a more inexpensive rate.
The negative is that your advertising will run on a lot of different types of sites. We once got a complaint that one of our client's advertisements ran on a site that was exclusively about butts so it is now a running joke in the office that we are "buying butts."
Mobile Social Media Advertising
If you can only advertise in one place, I'd recommend that it be social media, especially Facebook. Facebook knows an awful lot about you. Think of everything that you post on Facebook; it obviously knows that. Then, think of all of the sites that you visit that have the Facebook LIKE button on them; Facebook knows you are there whether you've clicked on the LIKE button or not. Most of us are always logged in to our Facebook page, because our computers remember our passwords.
With Facebook, there are two primary types of advertising available. Open your Facebook page on your desktop and take a look at your News Feed. There will be advertisements there. Facebook limits that amount of News Feed ads that it serves to you to about six per day so we don't get overwhelmed with the advertising. Moreover, only 20% of the advertisement can be sales oriented. In other words, Facebook will reject the ad if you have a big SALE over it. That's why the news feed ads don't really jump off the page at you screaming advertisement. At times, you don't even know it's a paid ad unless you see the "Sponsored" on it.
Take a look at your Facebook page on your mobile phone. Now, you see where the sponsored news feed advertising really shines. That's because the sponsored advertisement takes up your entire screen of your smartphone! You can't miss that advertising!
Now, look to the right on your desktop Facebook page and you'll see a narrower column that actually says "Sponsored" on it. These ads are cheaper than news feed ads, but they are also clearly less noticeable. And, it is considerably less effective in my opinion.
Facebook is, of course, not the only effective social media mobile advertising medium. Linked In is a great way to target professionals via social media advertising. Some advertisers have had success with Twitter and Pinterest advertising. A lot of advertisers are very excited to have Instagram advertising roll out to the masses; today, only Fortune 500 companies are involved in the beta test.
Recent Posts
Recent Comments
Archives
Categories
Meta