Browsing all articles tagged with advertising
Welcome to Mobile Monday, our weekly blog posting dedicated to providing readers with useful mobile marketing tips from Bob Bentz's newest book "Relevance Raises Response."

Every Monday ATSmobile continues to grant readers a brief passage from one of the most essential marketing books available for purchase today.
For our seventh week, we're focusing on"Marketing An App"where Bentz discusses fiscal responsibility between app developments vs. marketing the app itself, & the importance of utilizing social media for sharing an App.
MARKETING AN APP
While app store optimization is certainly important, marketers must not rely solely on promotion within the stores to maximize downloads.  There are over two million apps in the stores and finding a particular app is similar to finding the proverbial needle in the haystack, despite the best ASO efforts.
It is not easy to get consumers interested in downloading another app on their mobile phone when smartphone users are already using an average of 26.7 apps per month, according to a Nielsen study.  Too often, a company spends all of its money on developing an app and does not reserve any money for marketing the app.  That is a rookie mistake.  Don't make it.
A company needs to have developed a structured marketing plan in advance of the release of the app.  It needs a plan to tell existing customers and prospects good reasons why they need the app and where the app can be downloaded.  It needs to evaluate all of its current marketing channels to determine which would be best for promoting an app.  Facebook, for instance, would probably be better for facilitating app downloads than outdoor advertising since a social media user is likely on her mobile phone already as opposed to a driver who is hopefully not on his phone.  Google AdMob might be the best place since it enables an app marketer to advertise within other apps that consumers have already downloaded.
There is no doubt about the power of creating buzz on social media for an app launch.  It is an important part of the initial publicity required.  And, nobody does app marketing better than Facebook which earns a significant part of its ad revenue from brands pushing app downloads.
Of course, internet advertising is not always the best source for app downloads.  If the app has a huge budget, it may very well be television that results in the most downloads.  Game of War did a great job of promoting its app with eye catching Kate Upton and Mariah Carey as the stars of the commercials.
Acquisition costs will not always be high priced efforts like the television advertising for Game of War.  Publicity is a major driver of new app downloads so use press releases and other public relations efforts to get the word out.  Include a social media blitz as well.  The ROI provided by public relations efforts will likely result in the best ROI of any of the promotional efforts.
When marketing an app, it is absolutely critical to get off to a quick start to break through the supply of apps in the app store.  If an app is buried below thousands of others in the rankings, it is going to be difficult to get found.  Therefore, app marketers must get the word out quickly about the app by using a high level of growth hacking or a large advertising budget in an attempt to gain a featured listing and benefit from organic downloads.  Downloads beget more downloads thanks to the viral effect of the purchase and the improved ASO.
Research from Localytics found an added bonus to advertising apps.  App users that were acquired as a result of being discovered via a mobile ad network were more likely to come back for multiple uses on the app than those that found it from an organic search on the app store.  This is likely due to the fact that the ad creative has done a good job in pre-selling users on the benefits of the app and that the advertising was highly targeted.
The viral effect of apps is an important phenomenon to take advantage of.  An app should encourage existing users to share the app with friends or on social media.  (Think Candy Crush.)  This is a great way to take advantage of the viral publicity that a mobile app can provide.
Another great way to drive traffic to an app is to find the URL of the app download in the iTunes or Google Play listing for the app.  Keep in mind, this is not the URL for the business, but the URL that is used by the app stores.  Then, when the business does content marketing on its own blog or on external sites, it can link to the app store URL listings.  The goal is to get multiple rankings on the search engines for the app.  Those rankings might be the page on the business website that promotes the app download and the app stores' direct URL's for the download.
For iPhone and Android apps, there are multiple countries where the app can be listed.  If an app makes its money on advertising, there is no reason not to list the app in all countries, especially populous countries like China and India.  The Apple App and Google Play stores are available in over a hundred countries so it makes sense to be listed in as many of them as necessary.  Of course, if the app has an ecommerce element to it, this may not be practical.
There are many secondary Android app stores and therefore many places where an Android app can be marketed.  Amazon, Kindle, Nook store from Barnes & Noble, AppBrain, and GetJar are a few alternate places where an Android app can be marketed in addition to its logical home base in the Google Play store.
There is a defined cost to acquire app downloads and it is measured by a Cost Per Install (CPI) index.  The CPI per vertical market varies, but according to Fiksu, it averages $2.98 per user in 2015 and it is rising every year as businesses expand their use of mobile advertising, thus driving CPI costs up.
You can purchase Relevance Raises Response at Amazon or at other fine online book stores.
Welcome to Mobile Monday, our weekly blog posting dedicated to providing readers with useful mobile marketing tips from Bob Bentz's newest book "Relevance Raises Response." Every Monday ATSmobile continues to grant readers a brief passage from one of the most essential marketing books available for purchase today.
For our fifth week, we're focusing on "Mcommerce" where Bentz discusses responsive web design, online transactions and the smart phone becoming of greater use to people.
Mcommerce
Everybody has heard of ecommerce, but considerably less people identify with mcommerce. Mcommerce is the selling and purchasing of goods and services through mobile devices, as opposed to traditional ecommerce which occurs on desktop devices.
To be clear, mcommerce is not a separate entity from ecommerce. It is actually a subset of ecommerce sales and it is calculated as part of ecommerce sales. Historically, if businesses could make a little extra selling goods on the small screen of the smartphone, that was great. Today, however, entire businesses such as Uber are mcommerce only platforms.
While mcommerce sales have a few years to go to catch ecommerce sales which make up two-thirds of all online sales in North America, the gap is clearly narrowing each year. There are several reasons for this.
Responsive and adaptive web design is now the norm for most mcommerce sites and this evolution has helped eliminate sites not being optimized for mobile — previously the biggest factor in making it difficult to shop on a smartphone.
Larger mobile screen sizes are becoming more commonplace. This includes not only tablets, but also phablets–the half tablet, half phone hybrid.
There is simply the greater use of the smartphone for everyday use and increased use of making purchases via mobile is one such use.
Over time, the public has shown increased confidence in making online transactions on a mobile phone.
Despite the increase in mcommerce sales, however, shoppers are still considerably more likely to make a purchase from a desktop than a mobile phone. This is not only true in overall purchases, but also in the percent of conversions from desktop compared to mobile. While the gap narrows every year, consumers are still more likely to want to make the actual purchase from a desktop.
There remains several reasons for mcommerce's inability to match ecommerce sales figures. Consider the following:
The smaller screen and lack of a keyboard makes it more difficult to fill out a form and make a purchase. Just entering a 16 digit credit card number correctly without fat fingering any of the numbers is difficult to do on the first try.
A mobile phone is often not near wifi as opposed to a desktop which always has internet access.
Many mobile phones do not accept cookies so it is difficult to pre-fill some of the forms. There is one promising exception, however, as Safari mobile now offers pre-fill forms on its browser–an enhancement that should improve this factor.
Ecommerce sales offer credit card and Paypal payments. Mcommerce payments rely on mobile wallets which are still emerging in the USA.
Consumers have not been purchasing on mobile devices for as long as they have on desktop so there is still some reluctance to do so, especially by older customers.
Not surprisingly, when it comes to making purchases on mobile, tablets act more like laptops and desktops given their larger size. iPads convert best of all followed by Android tablets. Of smartphones, Androids convert to sales better than iPhones. This is surprising given the higher income levels of iPhone users, but Android also skews younger so that does give an edge to it when it comes to mobile sales conversions. In general, desktops tend to convert more often during working hours, but mobile takes over during leisure time.
When it comes to mcommerce, North America trails other countries in the percentage of online purchases made via mobile. In Japan and South Korea, more than half of all online transactions are made by mobile. Percent of purchases made by mobile in the United Kingdom are not far behind those of the Far Eastern countries. According to Forrester, it will take the USA until 2018 until half of its online sales are made via mcommerce. Japanese mobile consumers are over three times more likely to convert to a sale than USA consumers. If USA mobile conversion rates rose to those of Japan, the USA would account for over half of all mcommerce sales worldwide.
Opposite to what is going on in retail stores, mobile users visit online retailers more often and they buy more often, yet the average ticket sale is decreasing slightly on mobile. That is because mobile users are in a hurry when it comes to mcommerce and they are snacking on it often, but in shorter segments.
Did you know that the nursing shortage will grow to up to 260,000 Registered Nurses by 2025? Check out the video below to see how Purplegator can assist in your recruitment search by utilizing social and mobile advertising.
Welcome to Mobile Monday, our weekly blog posting dedicated to providing readers with useful mobile marketing tips from Bob Bentz's newest book "Relevance Raises Response." Every Monday ATSmobile continues to grant readers a brief passage from one of the most essential marketing books available for purchase today.
For our third week, we're focusing on "Short Message Service" where Bentz discusses Mass Communication, One-to-One Communication & Opt-In Marketing
SMS (short message service) text message marketing is inexpensive and offers the single best return on investment (ROI) of any mobile marketing tactic that you will employ. Whether you are a national retailer or simply a local pizza shop, there is a place for text message marketing in your marketing plan.
There are more mobile phones in the world than human beings and only SMS reaches more than half of all humans.  Not apps, not Facebook, not Instagram, not SnapChat, not WhatsApp.  Only SMS.
Text messaging is ubiquitous.  It is the one and only Tyrannosaurus Rex in mobile.  Text messaging is the feature that consumers use the most on their mobile phones.  In fact, more Americans use text messaging than actually talk (remember talking?) on their mobile phones.  It works on both smartphones and feature phones.  It does not need the registration of an account or require an installation.  And, best of all, text messages, as opposed to emails, are opened and read by nearly all that receive them.
Next to making a website mobile-friendly, SMS text message marketing is the single most important thing you can do to get started with a comprehensive mobile marketing strategy.  It is affordable for businesses of any size.  It is easy to implement, because it is a universal application that works the same on all phones; in fact, even the most basic of cell phones can use SMS.
If you are marketing via mobile, it all starts with a mobile-optimized website and SMS marketing.  Neither are particularly sexy today, but SMS messaging is at the basic foundation of most ongoing, successful mobile marketing campaigns.
Here's why SMS text message marketing is so very powerful.
One-to-One Communication — Mobile is about personalization, because it is the most personal of devices that we own.  A text message from a business can be targeted in that the message is speaking directly to the consumer; it is a personal connection.

Mass Communication — It is the mobile solution that can reach nearly 100% of your target market.  A business can reach out and touch all of its best customers with simply the touch of a button.

Opt-In Marketing — As opposed to email marketing which is opt-out marketing, SMS marketing is opt-in marketing.  This means a consumer must give permission for the business or organization to send them text messages.  That means the consumer feels so strongly about your brand that they are saying that they WANT to receive your advertisements.

Instantaneous — The message does not need to be planned well in advance and it can react to the situation at that very moment.  Messages are sent and received in a matter of seconds.  Think an unplanned flash sale.

Timely — Unlike traditional media, an SMS campaign can be intimately controlled as to the exact date and time when the customer is most likely to buy.  For a restaurant, that might be just before lunch time.  For an urban discounter, it may be paydays on the 15th and the 30th of the month.

Trackable — Mobile, by its nature, is highly trackable, as opposed to traditional media.  Results from all SMS promotions can be tracked with unique identifiers, or promo codes.

Optimization — By using A-B testing, a savvy marketer can test multiple promotions in order to find the best offer and best creative for the best target audience.

Loyalty — Text messaging offers the ability to increase loyalty and reward best customers by being part of a business's VIP club.  It enables a business to instantly communicate with its customer base.

Virality — It is so easy for a consumer to forward a text message to a friend who might want your offer.  This is advertising that a business benefits from, but does not have to pay for (the best kind of advertising).

Lift — SMS marketing can significantly increase foot traffic at a retail store.  This is especially true during traditionally slow days.  A restaurant, for example, can use SMS to attract diners on Mondays and Tuesdays when business is usually slow.
CLICK HERE to purchase a copy of "Relevance Raises Response" today where you'll find more information on how to engage and acquire with Mobile Marketing.
Social Mobile ads for recruiting are a unique and effective way to get your opportunity in front of people who would be good candidates for your positions. Fundamentally different from SEO and PPC, the key to this approach is that these potential candidates don't have to be out actively searching for your position. Instead, our strategic targeting allows us to go out and find the best highly qualified candidates and then we virtually tap them on the shoulder by delivering targeted ads and say "Hello there. You may be JUST the person we are looking for. We have an opportunity here that we think you'll be interested in learning more about."  We direct them to a landing page where they can learn more about the opportunity and then we capture their key information for follow up.
This approach is entirely different from PPC (Pay Per Click) or SEO (Search Engine Optimization) which require someone to be actively searching for something, i.e. Registered Nurse ICU Dallas or Truck Driver Jobs in Mobile, AL. If Pete is using a search engine (Google, Bing, Safari etc.) to look for a specific job in a specific location, he will likely see results from one of the many job boards and perhaps your company's website career page IF your site has terrific ongoing SEO and/or pays for search engine key words. There is typically a great deal of competition as companies pay top dollar for the most popular key words so their information will be on page 1 of a Google Search.
Social Mobile ads are highly targeted to specific geographic locations, specific demographics, interests, job titles etc. We are able to create a number of different profiles of interests, job titles, industries etc. of who would be the best type of candidate. Utilizing the power of big data collected by Facebook, mobile apps and other online providers, ads can be delivered to the right people at the right time, in the right place and on the right device – their mobile phones, tablets and computers.
To summarize:
People with jobs are often better candidates than people without jobs. Social Mobile Ads are a great way to get your opportunity in front of passive candidates who might not be looking for a job but would be open to learning more about your position if they knew about it.
Technical speak: the backend system can hook up to your ATS via API (the gizmo that hooks up our data to your data)
And finally – there is NO WASTE! Your ads are only delivered to the people who would be the right target. If you're looking for truck drivers, your ads won't be delivered to soccer moms.
To learn more about using Social Mobile ads for recruiting or to get a campaign started call or text us at 515-850-1162
When Will Mobile Get Its Fair Share?
In the presentations that our company makes, we often site the fact that mobile gets 20% of the time spent with media, but only 4% of the advertising budgets. It's an effective and powerful sales statistic that makes the prospect consider how it may be missing out on this valuable market.
How To Advertise on Mobile
There are several ways that and advertiser can take advantage of the medium of mobile advertising.
Direct Mobile Websites – buying an advertisement directly from YELP on its mobile website.
In App Advertising – buying an advertisement on the Pandora mobile app directly from Pandora.
Mobile Ad Networks – purchasing an advertisement on a variety of mobile apps and mobile websites from a company that has relationships with many such sites.
Social Media – buying mobile advertising on sites such as Facebook or Twitter with the tools that it provides.
Direct Mobile Websites
You could purchase directly from mobile websites themselves. A common place where a small business might purchase directly on a mobile website is YELP. YELP has a very aggressive sales team; it seems like every business I call has had a visit from the YELP rep.
Many advertisers will come to us and ask to purchase mobile advertising on sites such as ESPN or CNN. Most of these sites don't really want to deal directly with a lot of customers so they usually have a minimum investment of at least $10,000 per month which makes such advertising only possible for larger advertisers.
In App Advertising
One could also purchase advertising directly from sites such as Pandora. One of the long-time raps against radio has been that it is "background noise" and listeners don't really pay close attention to the advertisements. The same could be said about Pandora, except that Pandora only serves graphic advertisements when the consumer is engaging with it. In other words, ads don't just randomly pop-up on the site, but if you are engaging with Pandora via a thumbs up or thumbs down feedback, an advertisement may appear.
In addition to the graphic advertisements, you can also purchase voice advertising on the Pandora app.
Of course, if you hate the advertisements, you can always purchase the advertising free version on Pandora for $4.99 per month.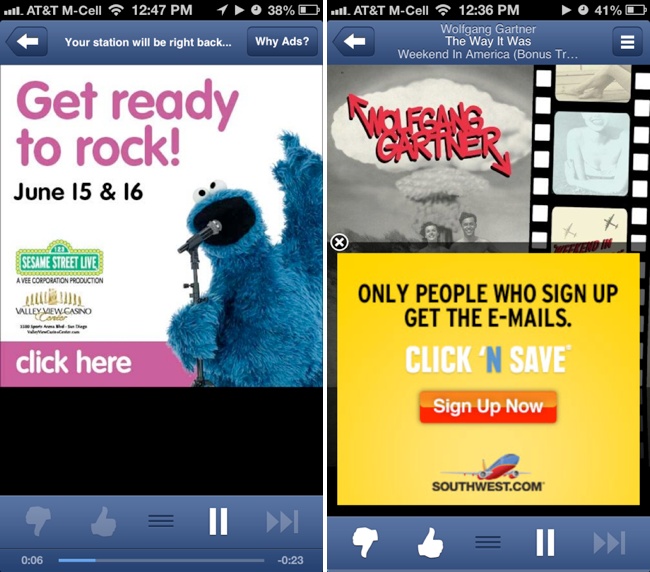 Mobile Ad Networks
There are a lot of mobile ad networks out there competing for market share against the giants of Google and Facebook. In fact, this guy put together a list of over 415 mobile ad networks! Of course, no customer or agency could ever be familiar with all of these so you end up using a few, mostly based on the availability of inventory, price, and service.
Here's some of the top 25 mobile ad networks. You may recognize some of the names. Millennial Media, Jumptap, and Tapjoy are networks that a lot of advertisers and agencies use. Some mobile ad networks have areas of specialization like InMobi which specifically targets gamers.
Quite frankly, the mobile ad networks don't get results that are nearly as effective as Facebook, because they don't offer the pinpoint advertising that is needed. They do, however, offer a better CPM (cost per thousand) and provide a lot of branding at a more inexpensive rate.
The negative is that your advertising will run on a lot of different types of sites. We once got a complaint that one of our client's advertisements ran on a site that was exclusively about butts so it is now a running joke in the office that we are "buying butts."
Mobile Social Media Advertising
If you can only advertise in one place, I'd recommend that it be social media, especially Facebook. Facebook knows an awful lot about you. Think of everything that you post on Facebook; it obviously knows that. Then, think of all of the sites that you visit that have the Facebook LIKE button on them; Facebook knows you are there whether you've clicked on the LIKE button or not. Most of us are always logged in to our Facebook page, because our computers remember our passwords.
With Facebook, there are two primary types of advertising available. Open your Facebook page on your desktop and take a look at your News Feed. There will be advertisements there. Facebook limits that amount of News Feed ads that it serves to you to about six per day so we don't get overwhelmed with the advertising. Moreover, only 20% of the advertisement can be sales oriented. In other words, Facebook will reject the ad if you have a big SALE over it. That's why the news feed ads don't really jump off the page at you screaming advertisement. At times, you don't even know it's a paid ad unless you see the "Sponsored" on it.
Take a look at your Facebook page on your mobile phone. Now, you see where the sponsored news feed advertising really shines. That's because the sponsored advertisement takes up your entire screen of your smartphone! You can't miss that advertising!
Now, look to the right on your desktop Facebook page and you'll see a narrower column that actually says "Sponsored" on it. These ads are cheaper than news feed ads, but they are also clearly less noticeable. And, it is considerably less effective in my opinion.
Facebook is, of course, not the only effective social media mobile advertising medium. Linked In is a great way to target professionals via social media advertising. Some advertisers have had success with Twitter and Pinterest advertising. A lot of advertisers are very excited to have Instagram advertising roll out to the masses; today, only Fortune 500 companies are involved in the beta test.
A common question that we get here at ATS Mobile is: what is a good click through rate for Facebook advertising?  Or, what is a good click through rate for mobile?
Often, that's a difficult question to answer.  It's akin to: how much does it cost to build a house?
Relevance Raises Response Rates
There are just so many different factors involved like:
how passionate is the audience about the offer?
how good is the offer?
how good is the creative?
All that being said, I hate not giving a customer or prospect an answer so here goes:
A good click through rate on Facebook news feed advertising is 5%.  An excellent rate is 8%.  In checking our statistics from the past year, our low click through rate (for primarily a branding program) was a little over 1% and the best was a highly targeted local promotion that notched an 11% click through rate.
Now, let's talk general mobile advertising.  It's a little different here, because general mobile advertising on the mobile networks can't command the kind of pinpoint targeting that Facebook offers.  Therefore, it will never be quite as high.  Taking out fat finger click throughs, we like to say 1 of 130 ads served will result in a click through.  Therefore, 7/10 of 1% is a good click through rate for mobile advertising.
Same thing here.  There's a lot of variables.  Most notably:
ad size
rich media use
interstitial
target market
The important thing about mobile, however, is not what your initial click through rate is, but where it ends.  At ATS Mobile, we take a look at your results every morning and we are always optimizing for the best performing creative or the best performing offer.
After all, that's why you're paying us.
It seems appropriate for ATS's Scott Bronenberg to talk about targeted mobile advertising today.  Bronenberg braved the storm to bring you this mobile marketing advice from just outside our doors at ATS Mobile.
Recent Posts
Recent Comments
Archives
Categories
Meta