Browsing all articles in Mobile Advertising
Welcome to Mobile Monday, our weekly blog posting dedicated to providing readers with useful mobile marketing tips from Bob Bentz's newest book "Relevance Raises Response."
Every Monday ATSmobile continues to grant readers a brief passage from one of the most essential marketing books available for purchase today.
For our sixth week, we're focusing on "Keywords"where Bentz discusses SMS Strategies and the downside of auto-correct.
KEYWORDS
An SMS keyword is the word that a consumer sends to a phone number, usually to receive immediate information back, and often to opt-in to a database to be marketed to in the future.
In the previous example (Text RESULTS to 84444), the keyword is "results." The customer would put the short code number (84444) in the space where she would normally insert the phone number. Then, the customer would insert "results" in the area where she would normally insert the message.
Choosing a keyword is an important step in your text message marketing strategy, because the keyword offers branding for your product offering. When it comes to choosing a keyword, a business should follow these tips, by choosing a keyword that:
brands the business or promotion.
is easy to remember to gain the viral pass-along effect from customers and employees.
is just one word to avoid problems with auto correct.
is easy to spell.
is not an acronym.
does not include numbers.
is as short as possible.
is not some "clever" spelling of a keyword.
The primary keyword that a business will want to reserve is its own name. This keyword will be the master keyword that is used continually for generating opt-ins. This permanent keyword should be printed everywhere–on business cards, literature, t-shirts, outdoor signage, menus, and anywhere else that makes sense. If the business name is difficult to spell, clever, or contains multiple words, it may be best just to go with a single word keyword that best identifies what the business does. If a business wants to understandably reserve its difficult to spell brand name as a keyword, it should also consider reserving the potential misspellings of that keyword.
Choosing the primary keyword is one of the most important things that a business will do in establishing its text message marketing plans. Often, businesses have common names and the keyword that the business wants may not be available. A second choice may be to pick the primary product that the business sells, but a keyword like "pizza" is likely not going to be available at an online shared short code provider. If the primary keyword a business wants is not available, it is possible for the business to choose an adjective that describes the business such as "tasty" or "hungry."
In addition to the primary keyword, businesses are going to want to use different keywords for various promotions. Some of these promotions may be short-lived and the business will be able to retire those keywords after using them for the short term promotion. Others may be annual events and the business will retain those keywords in their online accounts, because if they are released, another business may pick them up. The advantage to using new keywords is that it will get your regular customers participating in your texting program again and a business can place those users into a different database which may be helpful in segmenting for future promotions.
One of the great things about an SMS strategy is that there is a tremendous viral advantage to it. If a person knows that their friend likes to get their coffee at Dunkin' Donuts, they will pass along the keyword and short code to that friend. It is not unusual for a business to get 15-20% of its mobile coupon redemptions from viral sharing. But, the consumer may not remember to do so if the keyword, and the short code, is not easy to remember. So, it is always best to keep things simple when it comes to choosing a keyword and it is also best to use a memorable (vanity) short code.
Words that are compound words or two word keywords are also not good choices as keywords. A business might have the best cheesecake in the world, but "cheesecake" is not a very good keyword. That is because some people will spell cheesecake as two words (cheese cake) and some will intend to spell it as one word, but autocorrect "fixes" it for them. Automated SMS response systems cannot detect the user's intent, only the exact spelling, so picking the wrong keyword could result in lost opt-in opportunities.
One memorable SMS promotion was a sweepstakes that gave away a trip to Hawaii. The advertiser chose the keyword "Hawaii." Although a wonderful place, Hawaii is not a particularly easy word to spell. Moreover, some people include an apostrophe when spelling it. Hawaii was not a good choice as a keyword, because of the difficulty in spelling it. Acronyms such as "ATS" don't make for good keywords either. That is because of that damn autocorrect which will inevitably try to change the acronym of your business keyword into a real word. Avoid numbers in keywords as well. It is confusing to think of texting a number to a number. But, more importantly there are that zero and "oh" thing. When it comes to texting, consumers don't recognize what is a letter (O) and what is a number (0)!
Typing on a mobile phone is not easy. There are a lot of misspellings on the smaller screen of the mobile phone than on a desktop computer. Fat-finger misspellings are common problems on mobile. That is why using a short keyword is far better than a long keyword; there are simply less chance of a misspelling on a keyword with less letters.
Another poor idea is to use a clever use of a word as your keyword. A restaurant called "Finger Lickin' Chickin'" may be a snappy name, but using "chickin" as a keyword is not a good idea. That is because a customer's auto-correct is likely going to correct that word to the proper spelling of chicken.
One of the questions that is often asked is in regards to capitalization of keywords. Using caps or lower-case letters has no impact on the keyword so don't worry about it. To make the keyword stand out, the best way to write a keyword in your advertisement is to use all capital letters, but if somebody uses lower case, the interactive text message will still work properly.
Some keywords are not available to a business. That is because the carriers have reserved those keywords already and they are not available on short codes. Keywords such as STOP, HELP, INFO, END, CANCEL, UNSUBSCRIBE, QUIT, and others are taken before the short code is activated in the marketplace.
Have you had difficulty with hiring qualified, professional employees? That's probably because all of the ideal candidates are already employed by your competitors. They might not even know you are hiring because they aren't actively searching the job boards, visiting your careers page or following you on social media. They are unaware of the benefits, sign on bonus or opportunities you have to offer. With mobile marketing, we can help you reach these people on their smartphones and tablets, even if they aren't looking for a job.
We specialize in recruiting healthcare professionals (like Registered Nurses) and truck drivers. These are some of the toughest positions to fill because there aren't enough experienced or qualified candidates to fill every position out there. We have had great success in recruiting for these types of position, as well as others. As long as you have an idea of your target audience, we can put your message on their mobile device.
Facebook, Google and other providers are collecting data on you and your target audience every time you post on social media, browse the web, open apps and go online shopping. We have access to all of this data, which allows us to deliver your ads to a pinpoint targeted group of people – and only these people.
Audience Targeting
We create three unique audiences that are applied to the geographic area you specify. These locations are generally corresponding to the zip codes of your locations, the surrounding area, and the geographic location of your competitors.
Below is an example of the audiences for a RN position.
Job titles – Registered Nurse, Emergency Room Nurse, Nursing Manager

Industry – Healthcare, Senior living, etc.

Interests & Behaviors – American Nurses Association, critical care nursing, obstetrical nursing, etc (This becomes an extensive list)
Below is an example of the audiences for a truck driver position
Job titles – Truck Driver, CDL Driver, Long Haul Driver

Industry – Transportation & Moving

Interests & Behaviors – Trucking, CDL, Semi-trailer (This becomes an extensive list)
Delivering Your Advertisements Through Social & Digital Ad Networks
We use programmatic ad buying so you never overpay for the placement of your ads. We also have access to top of the line inventory like ESPN.com, People Magazine's site, local news stations and apps like Pandora. Your ads will be on the mobile websites and in the apps that your target audience accesses everyday.
When a person, who meets your unique demographics, interests and behavior criteria, logs into Facebook, he or she may be delivered your ad. It will look like a normal post in their newsfeed, except it will say "sponsored post". Just like a normal post, the name of any of their friends who have liked the page will show up at the top. For example, it might say "John and Gina like Citi Trends". Also similar to a normal Facebook post, the user can share, comment and like your ad. This allows your ad to be seen by more people because, if Molly shared your sponsored post, it will show in her friend's newsfeed also.
Your ad will be placed in apps and on the mobile web via a mobile banner ad. The same data and specifications (demographic, interest and behavior) will be utilized to determine which which people will see your message.
Conclusion
Mobile marketing is unlike any other type of advertising. We can guarantee that your ads are in front of real people who care about your message. This means that none of your mobile ad budget is wasted. We can turn ads on and off any time you want. This is unlike television, radio or print advertisements. For example, if you have received too many great applicants, we can turn your campaign off until you can interview the first batch of potential employees. If you need to expand your list of applicants, we can turn your campaign back on. Your goal is fill your team with qualified employees. Our goal is to deliver ideal candidates.
Welcome to Mobile Monday, our weekly blog posting dedicated to providing readers with useful mobile marketing tips from Bob Bentz's newest book "Relevance Raises Response." Every Monday ATSmobile continues to grant readers a brief passage from one of the most essential marketing books available for purchase today.
For our fifth week, we're focusing on "Mcommerce" where Bentz discusses responsive web design, online transactions and the smart phone becoming of greater use to people.
Mcommerce
Everybody has heard of ecommerce, but considerably less people identify with mcommerce. Mcommerce is the selling and purchasing of goods and services through mobile devices, as opposed to traditional ecommerce which occurs on desktop devices.
To be clear, mcommerce is not a separate entity from ecommerce. It is actually a subset of ecommerce sales and it is calculated as part of ecommerce sales. Historically, if businesses could make a little extra selling goods on the small screen of the smartphone, that was great. Today, however, entire businesses such as Uber are mcommerce only platforms.
While mcommerce sales have a few years to go to catch ecommerce sales which make up two-thirds of all online sales in North America, the gap is clearly narrowing each year. There are several reasons for this.
Responsive and adaptive web design is now the norm for most mcommerce sites and this evolution has helped eliminate sites not being optimized for mobile — previously the biggest factor in making it difficult to shop on a smartphone.
Larger mobile screen sizes are becoming more commonplace. This includes not only tablets, but also phablets–the half tablet, half phone hybrid.
There is simply the greater use of the smartphone for everyday use and increased use of making purchases via mobile is one such use.
Over time, the public has shown increased confidence in making online transactions on a mobile phone.
Despite the increase in mcommerce sales, however, shoppers are still considerably more likely to make a purchase from a desktop than a mobile phone. This is not only true in overall purchases, but also in the percent of conversions from desktop compared to mobile. While the gap narrows every year, consumers are still more likely to want to make the actual purchase from a desktop.
There remains several reasons for mcommerce's inability to match ecommerce sales figures. Consider the following:
The smaller screen and lack of a keyboard makes it more difficult to fill out a form and make a purchase. Just entering a 16 digit credit card number correctly without fat fingering any of the numbers is difficult to do on the first try.
A mobile phone is often not near wifi as opposed to a desktop which always has internet access.
Many mobile phones do not accept cookies so it is difficult to pre-fill some of the forms. There is one promising exception, however, as Safari mobile now offers pre-fill forms on its browser–an enhancement that should improve this factor.
Ecommerce sales offer credit card and Paypal payments. Mcommerce payments rely on mobile wallets which are still emerging in the USA.
Consumers have not been purchasing on mobile devices for as long as they have on desktop so there is still some reluctance to do so, especially by older customers.
Not surprisingly, when it comes to making purchases on mobile, tablets act more like laptops and desktops given their larger size. iPads convert best of all followed by Android tablets. Of smartphones, Androids convert to sales better than iPhones. This is surprising given the higher income levels of iPhone users, but Android also skews younger so that does give an edge to it when it comes to mobile sales conversions. In general, desktops tend to convert more often during working hours, but mobile takes over during leisure time.
When it comes to mcommerce, North America trails other countries in the percentage of online purchases made via mobile. In Japan and South Korea, more than half of all online transactions are made by mobile. Percent of purchases made by mobile in the United Kingdom are not far behind those of the Far Eastern countries. According to Forrester, it will take the USA until 2018 until half of its online sales are made via mcommerce. Japanese mobile consumers are over three times more likely to convert to a sale than USA consumers. If USA mobile conversion rates rose to those of Japan, the USA would account for over half of all mcommerce sales worldwide.
Opposite to what is going on in retail stores, mobile users visit online retailers more often and they buy more often, yet the average ticket sale is decreasing slightly on mobile. That is because mobile users are in a hurry when it comes to mcommerce and they are snacking on it often, but in shorter segments.
Social and mobile advertising are exceptionally powerful tool that can be utilized to reach your optimal consumers on their mobile device, whether it be a smartphone or tablet. We create and serve ads that are targeted to make an impression on your specific audience. Your message will be seen on social media platforms, like Facebook and Instagram, on the mobile web, through display and banner ads, and in the mobile applications that your targeted audience accesses everyday.
Conversion
Converting impressions into leads is our top priority. Each advertisement will have a call to action, such as "Apply Today" or "Tap to Learn More", which will encourage any consumers viewing the ad to tap or click on it. They will then be taken to a landing page, designed and hosted by our team, where we collect imperative information for you. This landing page is entirely customizable to meet the objectives of your campaign.
For a retail campaign, they can call, find the nearest location, see your hours, check off a few identifiers and/or provide their contact information for further follow up. After they submit the form, they receive an automated email and are entered into a database which you can access 24/7.
Our ultimate goal is to increase foot traffic for your retail stores. Your campaign can run for five or eight weeks. We recommend running two weeks on, one week off and two weeks on. If you're running an eight week campaign, we go off another week and then add a final two weeks. Alternatively, your ads can run Wednesday night at 6pm until Monday at noon. With either schedule we use the time when the ads are inactive to perform all of our optimization.
We optimize your campaign by analyzing the data, refreshing the creative, updating offers and tweaking the targeting. This an essential step because we don't want your campaign to fatigue. If people see the same ad too many times they become too blind to them and your ad loses its effectiveness. We also monitor your campaign daily to supply another level of optimization. If one ad is outperforming the others, we will move money away from the others and put it toward the better performing ad. We can make changes at any time during the middle of your campaign if you need to tweak a special deal, location, time specific information, etc.
How It Works
We create three custom audiences in your specific geographic area, usually corresponding to the zip codes of your store's locations and surrounding areas. Below is an example of targeting for a hardware store.
Job titles – Plumber, Contractor, Builder

Industry – Construction & Extraction, Installation & Repair

Interests & Behaviors – DIYers, new home owners, planning to remodel, etc. (This can be an extensive list)
We run three or four ads for each of these three audiences, which means you have nine to twelve ads running at any given time.
How The Ads Are Delivered – Facebook and Mobile Ad Networks
The ad unit will show up as a "sponsored post" in the Facebook news feed of anyone that meets the specific demo, interest and behavior criteria. If any of their friends already like the page, that sponsored post will include an intro that says "Mike and Sally like Contractor's Guide".
The average frequency is 2.65 ads per user. This means that the ad is delivered two or three times to people who meet the targeting criteria. People can like, comment on and share these ads just like a normal Facebook post. We report on these metrics weekly so you can get an idea of how people are engaging with your ads.
Mobile banner ads are delivered when someone opens an app or searches for something on a mobile device, either smartphone or tablet. The same demographics, as specified for the Facebook ads, are used to determine which apps your ads will be placed in. Banner ads are an effective way to build brand equity; when people see your banner ad they will be more likely to click on the corresponding Facebook ad when they see it.
A key component to mobile ads is our ability to advertise to people who are on their mobile device when at a competitor's location, and those who are within a mile of one of your stores. We can also target people who have been in a competitor's store within the past 30 days.
The Impact
Social and mobile advertising can have a huge impact on the number of people walking through your doors, making appointments, buying the products off of your shelves, or whatever your end goal may be. Take a look at the people around you next time you are out shopping or eating at a restaurant. You will see that mobile phones are glued to people's hands. We can put your message on the screens of those who fit in your demographic.
Did you know that the nursing shortage will grow to up to 260,000 Registered Nurses by 2025? Check out the video below to see how Purplegator can assist in your recruitment search by utilizing social and mobile advertising.
When comparing time spent with media versus advertising spend, mobile continues to get the short end of the stick.  American businesses continue to spend money on print advertising, I guess just out of habit.
View time spent with mobile trends since 2009 here.
See more detailed statistics on time spent with various media here.
The End of the Facebook Free Ride
A lot has been said about Facebook's revenue growth over the past few years.  And it is certainly impressive.  That growth has been fueled by the phenomenal success of Facebook's advertising strategy. 

(Statista)
There was a time when agencies and advertisers worked diligently to gain more followers.  That's because followers were incredibly valuable to a business.  When a business created an organic post, it went directly onto the personal Facebook page of many of its followers.
That's no longer the case, however.  As of February, 2014, your organic posts are reaching just 6.2% of your Facebook LIKES.  If you are a large business, it's just over 2%. (Ogilvy)
Facebook says it's not a money grab to force you into advertising on the popular social media network.  Rather, it's just a matter of the popularity of the site.  There's simply too many posts and they can't deliver them to all followers.
Hey, it's a business and the goal of a business is to make money.  As a Facebook stock holder, I'm good with that.  That's why, in my opinion, if you're not doing Facebook advertising, I'm not sure whether it's even worth it to spend the time doing organic posts any more.
You Have to Pay to Play on Facebook
But, the beauty of Facebook advertising for small businesses is that it simply works.  In fact, it works better than any advertising that I've been part of in my career.  That's because we tell Facebook a lot about ourselves.  (Want to know what Facebook knows about you?  Here's how you check.)
With geo-targeting, there's almost no waste that you get with traditional media.  You can only serve your advertising to consumers in specific area codes or within a certain amount of miles of your store.  Interest targeting enables you to serve advertisements to those that have a certain common interest.  Look-alike audiences enable you to expand your audience with consumers that are most likely to buy.
And, you can't miss it, especially on mobile.  Take a look at a Facebook advertisement that we did for Harrisburg Wall & Flooring — a local SMB that has learned the value of social media marketing.  (Editor's Note — It's my family's business.)
Facebook remains the gorilla in the room when it comes to social, mobile, local advertising.
Even if you have to pay for the gorilla now.
When Will Mobile Get Its Fair Share?
In the presentations that our company makes, we often site the fact that mobile gets 20% of the time spent with media, but only 4% of the advertising budgets. It's an effective and powerful sales statistic that makes the prospect consider how it may be missing out on this valuable market.
How To Advertise on Mobile
There are several ways that and advertiser can take advantage of the medium of mobile advertising.
Direct Mobile Websites – buying an advertisement directly from YELP on its mobile website.
In App Advertising – buying an advertisement on the Pandora mobile app directly from Pandora.
Mobile Ad Networks – purchasing an advertisement on a variety of mobile apps and mobile websites from a company that has relationships with many such sites.
Social Media – buying mobile advertising on sites such as Facebook or Twitter with the tools that it provides.
Direct Mobile Websites
You could purchase directly from mobile websites themselves. A common place where a small business might purchase directly on a mobile website is YELP. YELP has a very aggressive sales team; it seems like every business I call has had a visit from the YELP rep.
Many advertisers will come to us and ask to purchase mobile advertising on sites such as ESPN or CNN. Most of these sites don't really want to deal directly with a lot of customers so they usually have a minimum investment of at least $10,000 per month which makes such advertising only possible for larger advertisers.
In App Advertising
One could also purchase advertising directly from sites such as Pandora. One of the long-time raps against radio has been that it is "background noise" and listeners don't really pay close attention to the advertisements. The same could be said about Pandora, except that Pandora only serves graphic advertisements when the consumer is engaging with it. In other words, ads don't just randomly pop-up on the site, but if you are engaging with Pandora via a thumbs up or thumbs down feedback, an advertisement may appear.
In addition to the graphic advertisements, you can also purchase voice advertising on the Pandora app.
Of course, if you hate the advertisements, you can always purchase the advertising free version on Pandora for $4.99 per month.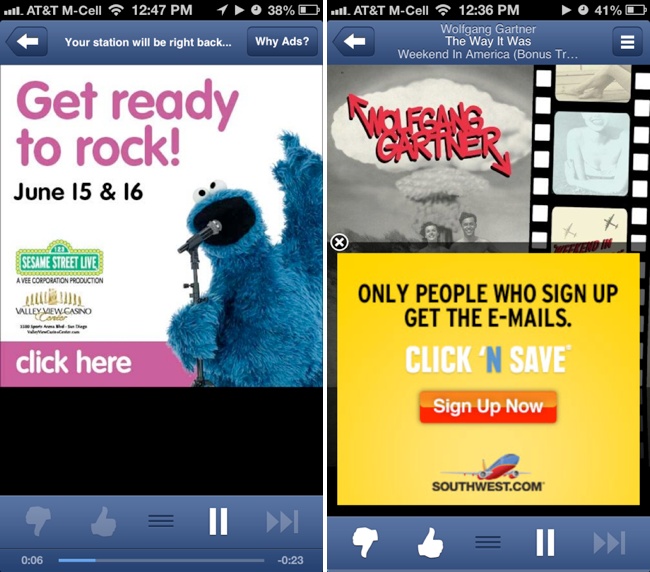 Mobile Ad Networks
There are a lot of mobile ad networks out there competing for market share against the giants of Google and Facebook. In fact, this guy put together a list of over 415 mobile ad networks! Of course, no customer or agency could ever be familiar with all of these so you end up using a few, mostly based on the availability of inventory, price, and service.
Here's some of the top 25 mobile ad networks. You may recognize some of the names. Millennial Media, Jumptap, and Tapjoy are networks that a lot of advertisers and agencies use. Some mobile ad networks have areas of specialization like InMobi which specifically targets gamers.
Quite frankly, the mobile ad networks don't get results that are nearly as effective as Facebook, because they don't offer the pinpoint advertising that is needed. They do, however, offer a better CPM (cost per thousand) and provide a lot of branding at a more inexpensive rate.
The negative is that your advertising will run on a lot of different types of sites. We once got a complaint that one of our client's advertisements ran on a site that was exclusively about butts so it is now a running joke in the office that we are "buying butts."
Mobile Social Media Advertising
If you can only advertise in one place, I'd recommend that it be social media, especially Facebook. Facebook knows an awful lot about you. Think of everything that you post on Facebook; it obviously knows that. Then, think of all of the sites that you visit that have the Facebook LIKE button on them; Facebook knows you are there whether you've clicked on the LIKE button or not. Most of us are always logged in to our Facebook page, because our computers remember our passwords.
With Facebook, there are two primary types of advertising available. Open your Facebook page on your desktop and take a look at your News Feed. There will be advertisements there. Facebook limits that amount of News Feed ads that it serves to you to about six per day so we don't get overwhelmed with the advertising. Moreover, only 20% of the advertisement can be sales oriented. In other words, Facebook will reject the ad if you have a big SALE over it. That's why the news feed ads don't really jump off the page at you screaming advertisement. At times, you don't even know it's a paid ad unless you see the "Sponsored" on it.
Take a look at your Facebook page on your mobile phone. Now, you see where the sponsored news feed advertising really shines. That's because the sponsored advertisement takes up your entire screen of your smartphone! You can't miss that advertising!
Now, look to the right on your desktop Facebook page and you'll see a narrower column that actually says "Sponsored" on it. These ads are cheaper than news feed ads, but they are also clearly less noticeable. And, it is considerably less effective in my opinion.
Facebook is, of course, not the only effective social media mobile advertising medium. Linked In is a great way to target professionals via social media advertising. Some advertisers have had success with Twitter and Pinterest advertising. A lot of advertisers are very excited to have Instagram advertising roll out to the masses; today, only Fortune 500 companies are involved in the beta test.
Recent Posts
Recent Comments
Archives
Categories
Meta